Famous L'Arc de Triomphe on Famous Champs Elysées, Paris, France
Battlefield Paris:
Police hit protesters with tear gas as massive fuel rallies grip France 
This whole "green" movement is about creating a new industry. 
Also the global elite see it as an opportunity to tax people globally. 
They know their central banking system is going away and they
won't be able to get income from that raping mechanism anymore. 
They had to find a new way to extract "blood" from the people. 
This global carbon tax is that way. 
They created an environmental issue that does not exist 
and paid off scientists to back their claims!
*
Historically, the French have beheaded their leaders for less! 
Everybody feels human again…We are the French people.
https://forbiddenknowledgetv.net/everybody-feels-human-again-we-are-the-french-people/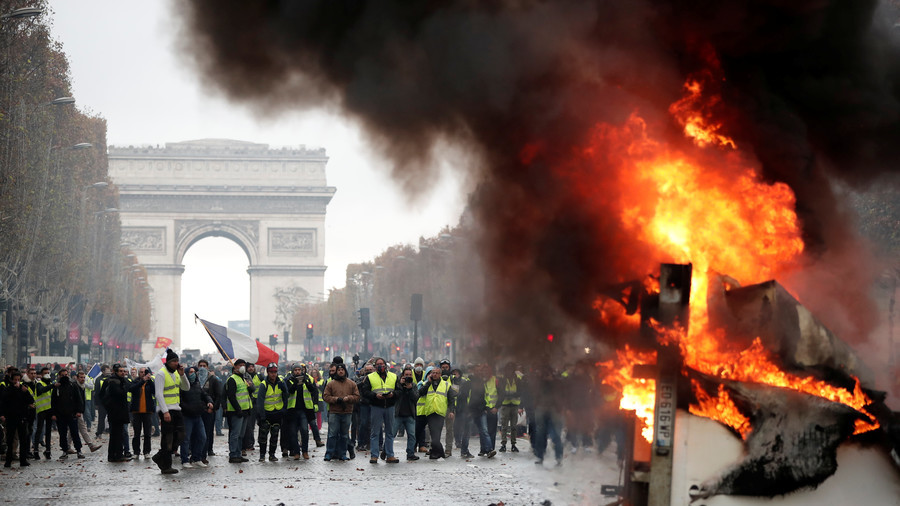 A truck burns during a "Yellow vest" protest in Paris © Reuters / Benoit Tessier
Night rage: Furious 'Yellow Vest' protesters turn Paris into 'war zone'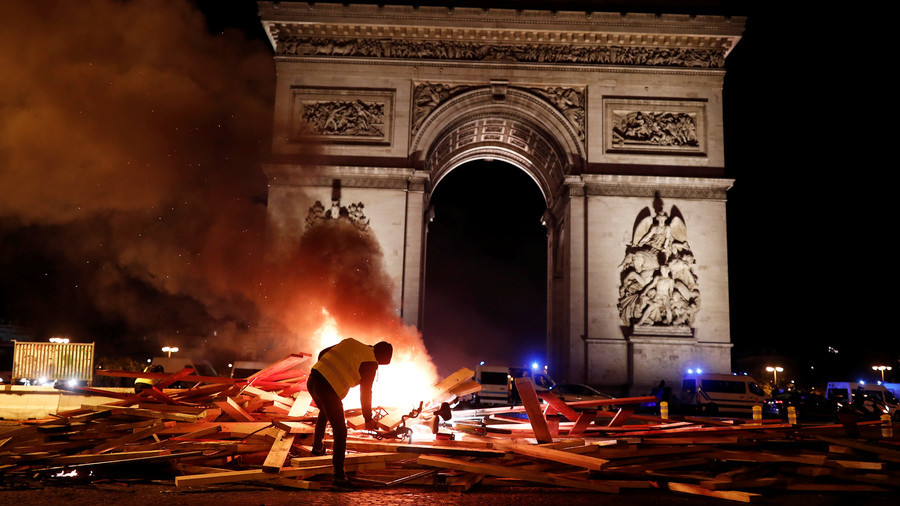 © Reuters / Benoit Tessier
.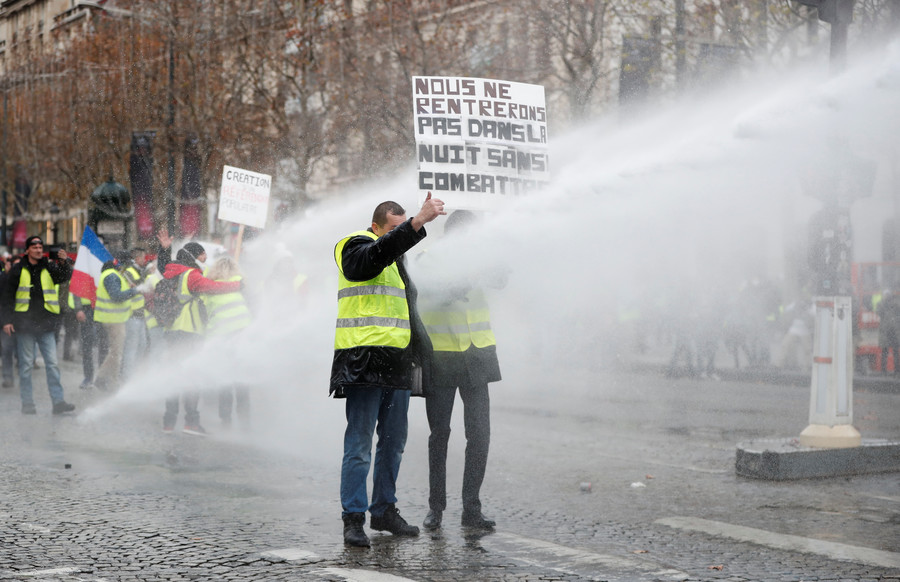 Protest in Paris © Reuters / Benoit Tessier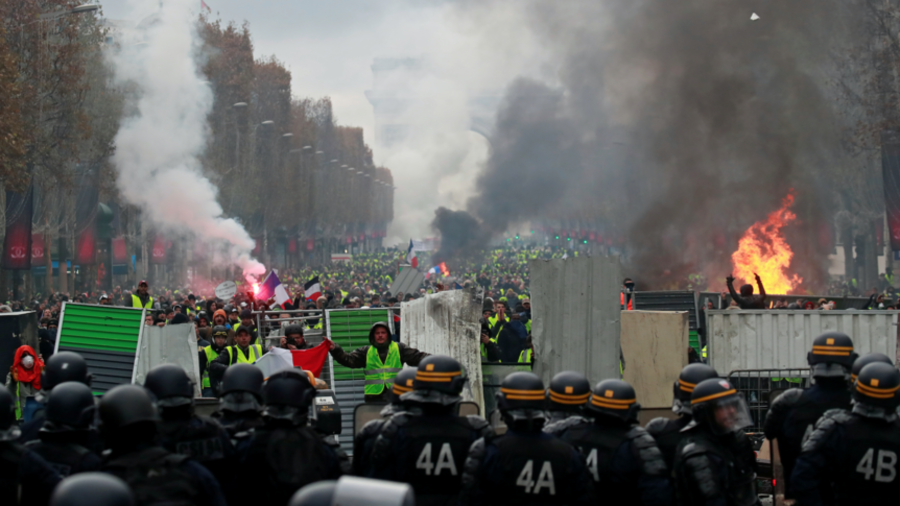 Protesters shout slogans at police during the "Yellow vest" protest in Paris. © Reuters / Gonzalo Fuentes
.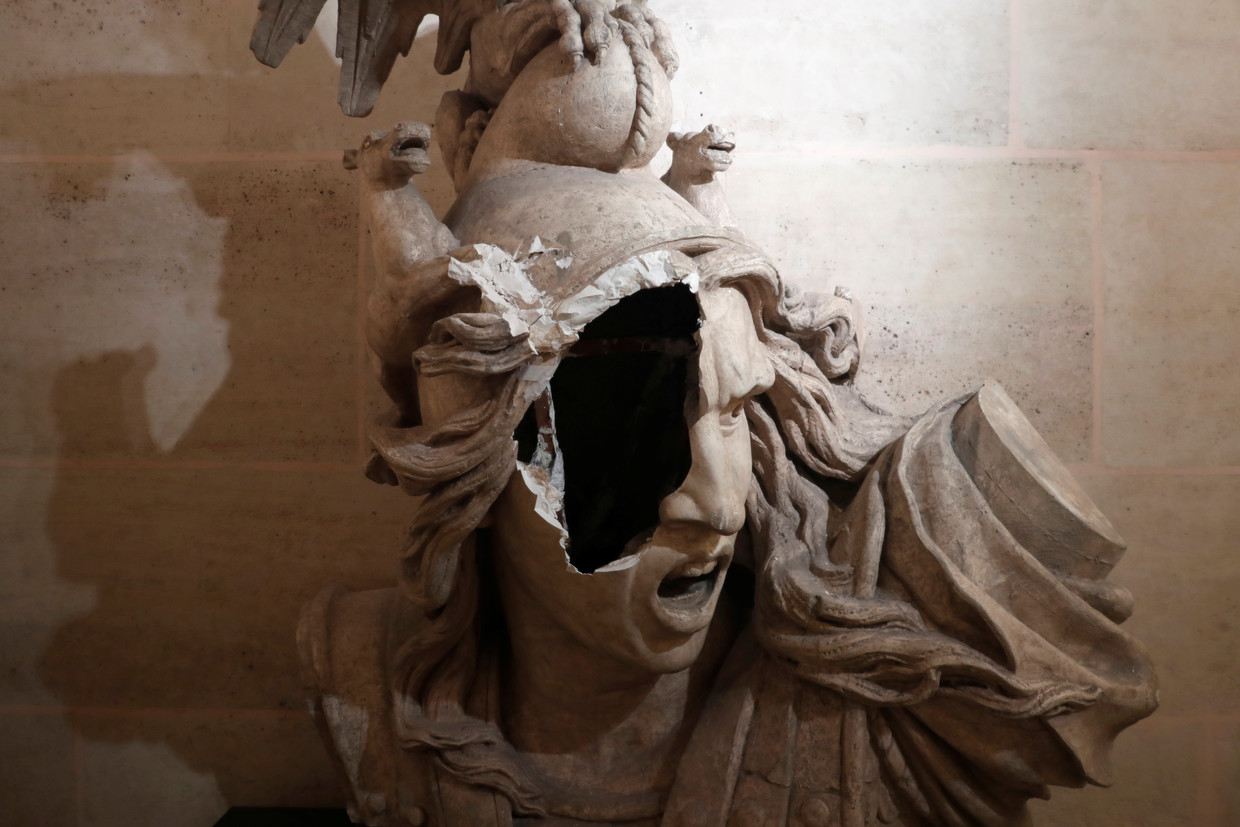 The damaged Spirit of Liberty (1895) by Charles-Edouard Pouzadoux is pictured behind glass, in a gallery inside the Arc de Triomphe in Paris, France, December 12, 2018. REUTERS/Benoit Tessier
Yellow Vest protests from Paris, France, spread to Brussels, November 30, 2018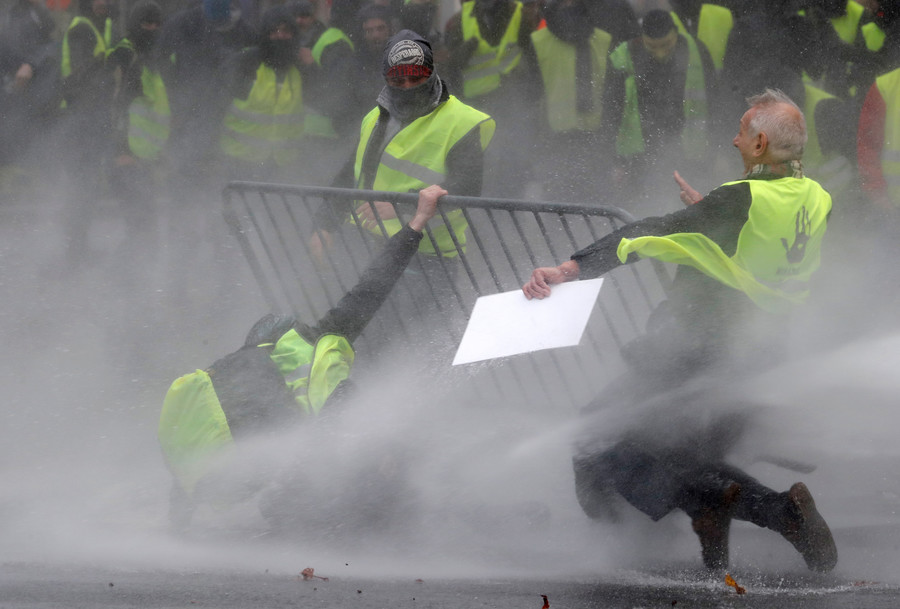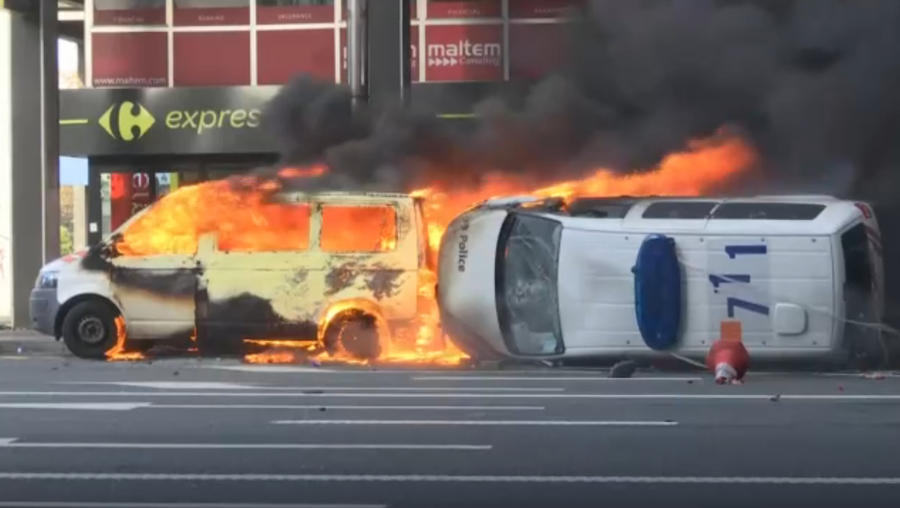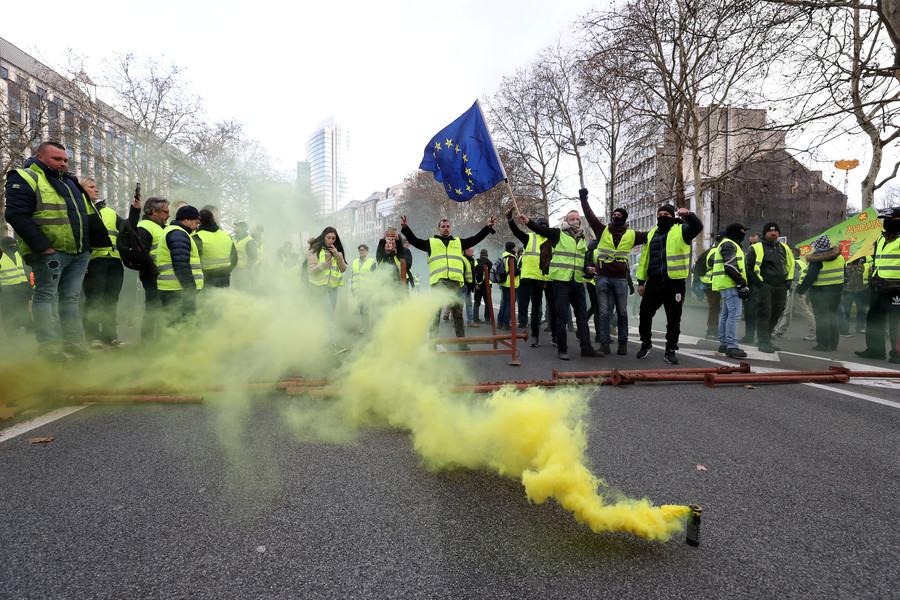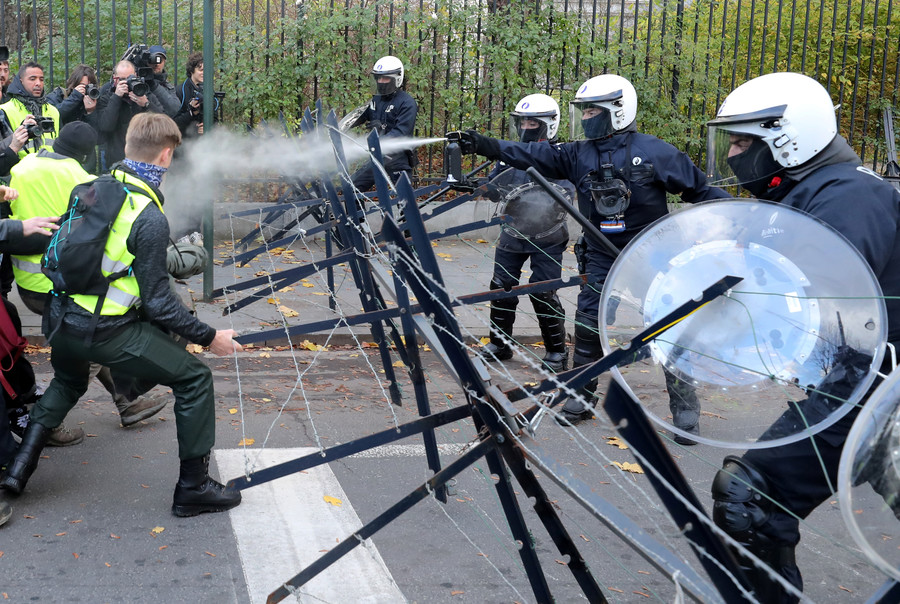 © Reuters / Yves Herman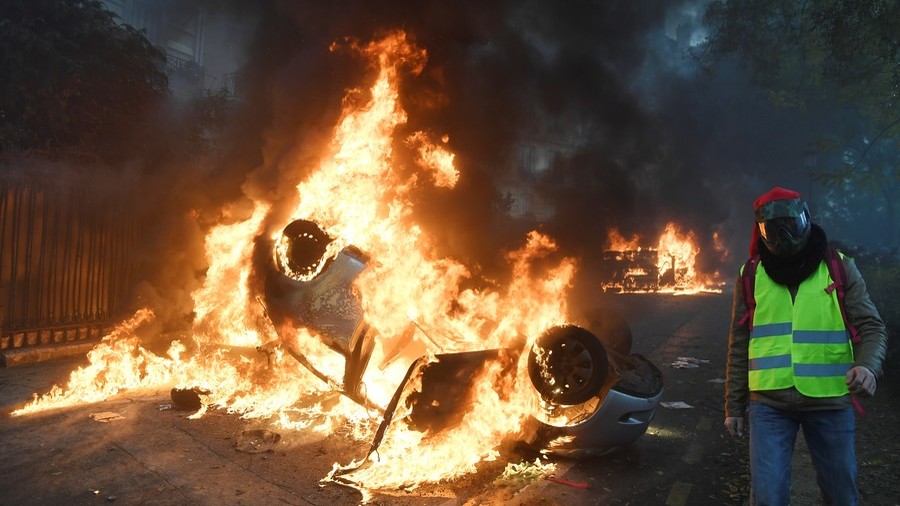 A demonstrator walks near a burning car during a protest of Yellow vests in Paris on December 1, 2018. ©  AFP / Alain Jocard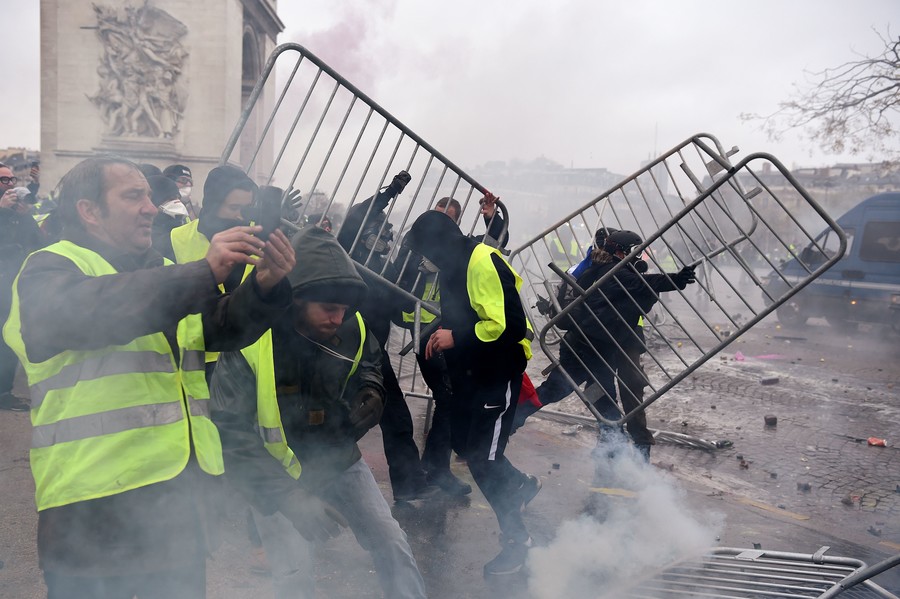 Demonstrators throws metal barriers during a protest of Yellow vests ©  AFP
French police crack down on Yellow Vest protesters in bloody clashes
1 Dec, 2018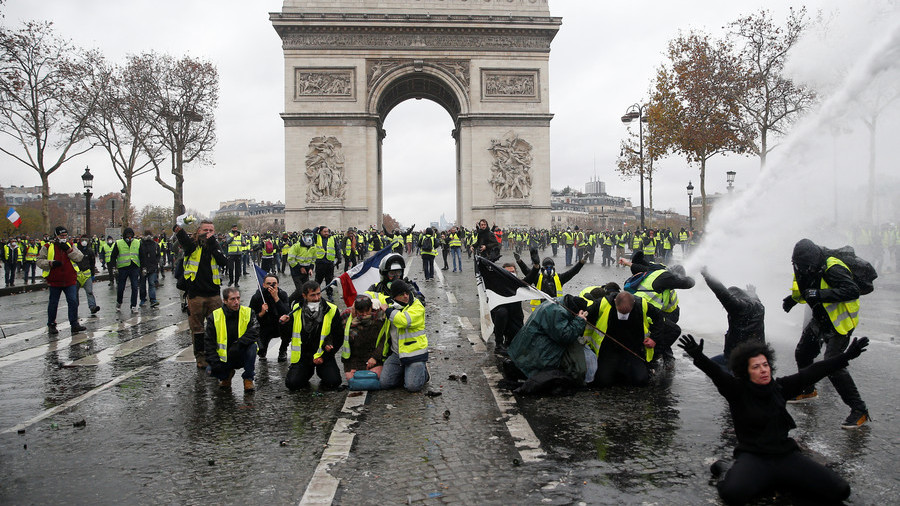 'This is the start of a revolution'
A 'Yellow Vest' protester stands in front of three burning cars after torching them on Avenue Foch near the Arc de Triomphe as violent demonstrations continue into the night in Paris
A car completely engulfed in flames is burned in front of the Arc de Triomphe as police struggle to defuse the protests in Paris
A protester said this was the start of a revolution, worse than the French revolution in 1968 where massive general strikes as well as the occupation of universities and factories took place across France
A demonstrator launches a bicycle at a burning police car – which has partially melted under the heat – as night falls in the French capital
A crowd of protesters smash a shop window during chaotic protests in the French capital which show no sign of slowing down as night falls in Paris
Rows of parked cars were torched, engulfing entire streets in smoke this evening in Paris, where at least 80 people were injured
Protesters let off red flares and charge at riot police in the French capita las violence continued into the night
Riot police officers stand in the middle of the damage of La Belle Armee restaurant which has been ransacked and torched in Paris tonight
French riot police are seen locking down a street through the shattered window of the La Belle Armee restaurant which was destroyed in the protests
Firefighters rescue two injured people laying on the ground, who were hurt during clashes in the streets of Paris tonight
Demonstrators protect themselves from water canons fired by French riot police as they retaliated against the Yellow Vests in Paris tonight
'Yellow Vest' demonstrators sit on deck chairs amid the violence tonight as a van can be seen burning just behind them
A man hurls a brick next to the broken windows of the Musee de l'Orangerie and a burning vehicle on the Tuileries Garde as night falls in Paris
A woman watches huge flames flickering outside of her window as violence erupted below her apartment in Paris
A masked man in a yellow vest marches through the streets of the capital carrying the French flag over his shoulder after torching a van
A demonstrator ducks down to avoid water cannons sprayed by French riot place near the Place de l'Etoile this evening
Yellow vest and plain clothed protesters clash with French riot police in the country's capital this afternoon
Protesters wearing yellow vests, a symbol of a French drivers' protest against higher diesel taxes, face off with French riot police during clashes at the Place de l'Etoile near the Arc de Triomphe today
One of the 'yellow vest' protesters, wearing one of the 'gilets jaunes' after which the movement is named, waves a French flag by the Arc de Triomphe on Saturday morning
A lone protester marches towards the chaos in front of the Arc de Triomphe waving a French, as flaming debris burns out on the street
Firefighters try to extinguish a burning car which had been turned over and set on fire during the protest in Paris on Saturday
Demonstrators gather in the centre of Paris waving a flag and lighting a flare with the Eiffel Tower in the background
Firemen race to extinguish a burning Mini which had been ignited during the protests this afternoon in Paris
Riot police barge one protester in a high-vis vest with a riot shield while another officer hits a grounded campaigner with a baton (right) in Paris this afternoon
The remains of a Christmas tree are seen in Paris after it became a target of the Yellow Vest protesters in the French capital
This picture taken from the top of the Arc de Triomphe shows a scattering of yellow-vested protesters and smoke rising over the Paris skyline as darkness starts to fall on the French capital after a day of violent protest
Demonstrators wearing hoods and yellow vests turn over a burning car on the Champs Elysees in the centre of Paris today
Demonstrators run by a burning fire near the Arc de Triomphe during a fresh protest which has seen Yellow Vest supporters clash with riot police and more than 100 people arrested so far on Saturday
Firefighters wearing helmets and protective clothes spray water over a burning car in the centre of Paris amid violent protests
Riot police officers spray tear gas against demonstrators during Saturday's protest which follows rioting last weekend
Smoke can be seen rising in the distance in a picture taken from the top of the Arc de Triomphe amid violent protests in Paris
French riot police are drenched in spray paint after cans were hurled at them by yellow vest protesters in the capital today
Masked protesters wearing yellow vests run from tear gas during the demonstration today. It comes a week after riots which President Macron likened to 'war scenes'
French riot police secure a street lined with Christmas decorations as they prepare for a violent onslaught of protesters this evening in Paris 
The Yellow Vest protesters gather metal objects to make into barricades during Saturday's protests in Paris
People wearing hoods, masks and yellow jackets – with one holding an umbrella – demonstrate near the Place de l'Etoile today
Tear gas floats in the air as protesters wearing yellow vests, a symbol of a French drivers' protest against higher diesel taxes, demonstrate in Paris
A topless demonstrator watches as riot police fire water cannon amid fresh violence in the centre of the French capital today
Demonstrators throw metal barriers during the protest today next to the Arc de Triomphe in a movement which has spiralled into a rebellion against Emmanuel Macron's government
'Yellow vest' protesters spray paint 'Les Gilets Jaunes Triompheront' – meaning The Yellow Vests Will Triumph – on the side of the Arc de Triomphe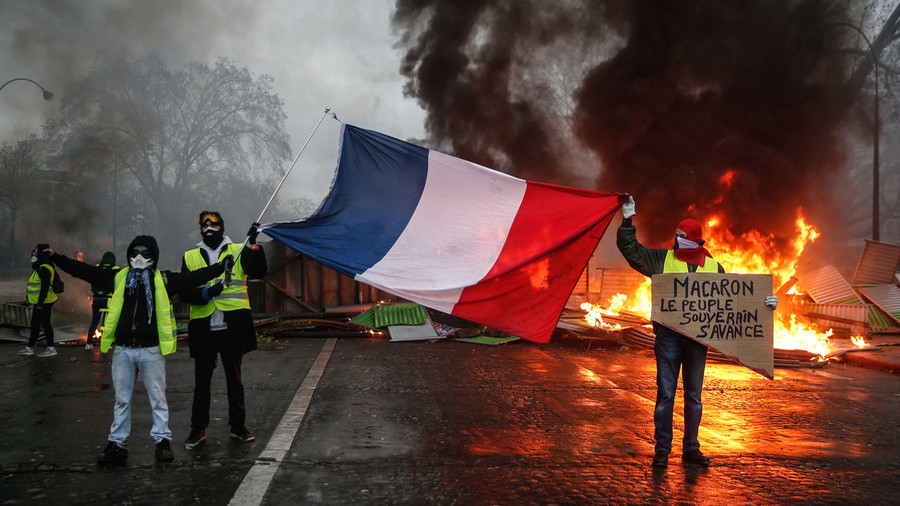 .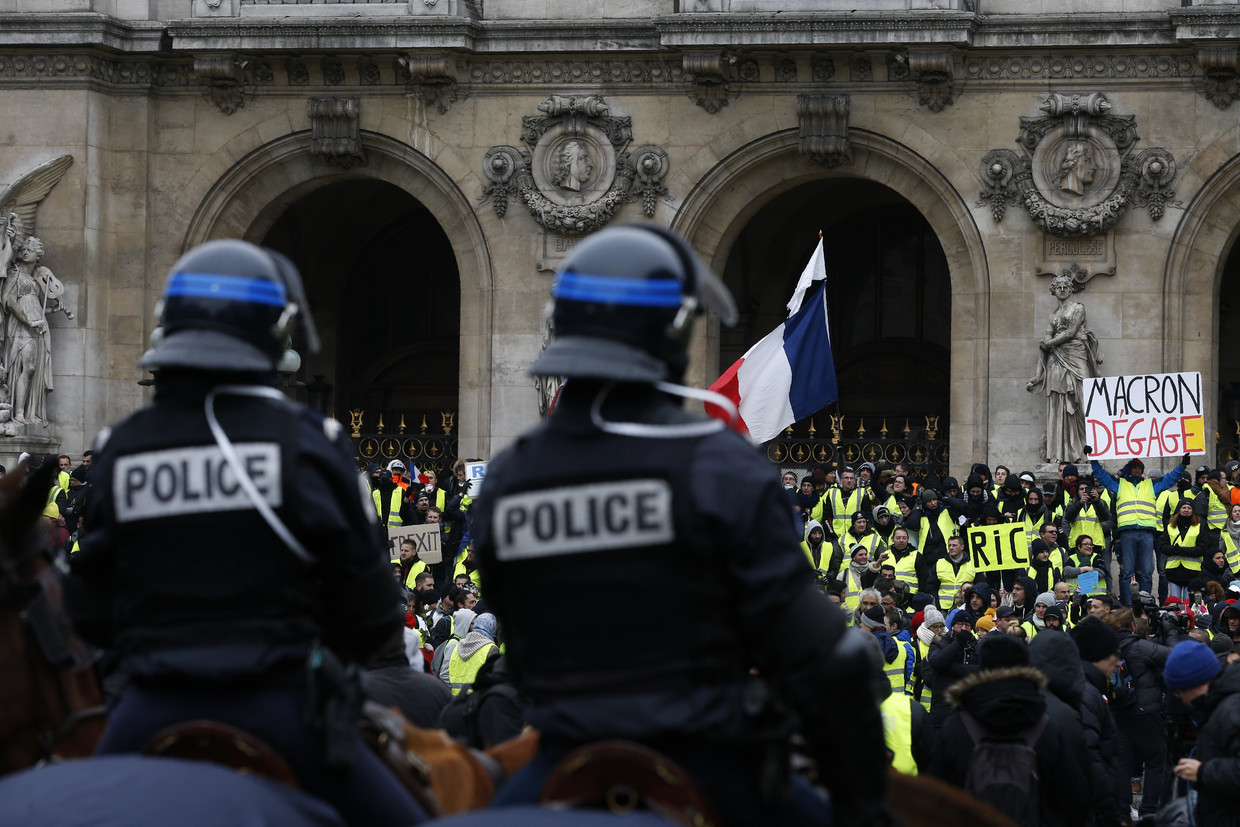 ©  AFP / Geoffroy Van der Hasselt
'We didn't listen to people': French PM admits mistakes in dealing with Yellow Vest rallies
17 Dec, 2018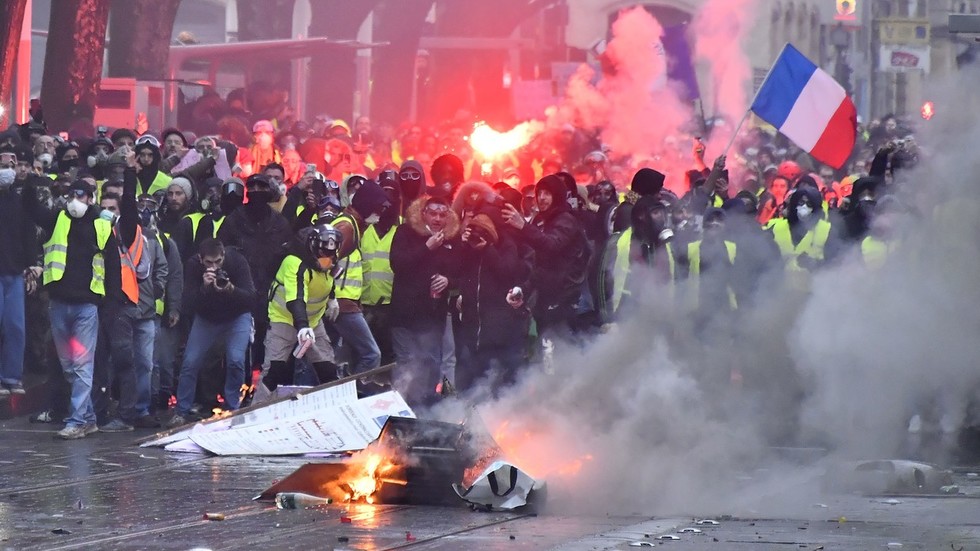 Protesters wearing yellow vests set up a barricade in Bordeaux ©  AFP
.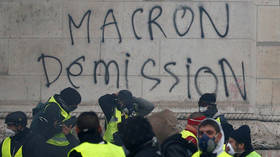 A 'Macron Resign' slogan was painted on the Arc de Triomphe amid 'Yellow Vest' rallies in Paris © REUTERS / Stephane Mahe
.
Yellow Vest protest leader Jerome Rodrigues lies near death after being shot by French police on 26 January 2019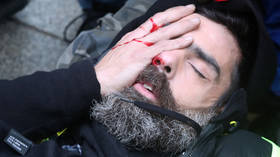 ©  AFP / Zakaria Abdelkafi
"The president [Emmanuel Macron] declared war on us and our injuries are battle wounds. The traumatic weapons are equipped with collimators [optical sights] – such equipment is used on the battlefield, at war," Rodrigues told RT.
"I never thought that such a thing could happen in France," he added, describing what the country has been going through in recent months as "dark times."
Jerome Rodrigues © Ruptly
Rodrigues pointed out that "becoming a symbol of violence" isn't what he wanted.
I want to maintain my peaceful line. We must restrain our anger and expand our cause, but remain non-violent and call for peace… A good rally is the one when everybody returns home safe.
If Macron's government wants the protests to end and "the people to return home they must give us what we ask for. I'm talking about a decrease in taxes on essential goods; the restoration of democracy, which must happen through referendums initiated by the citizens; withdrawal of privileges for the political leadership; and finally, the mutilated people must receive their apologies," he said.
.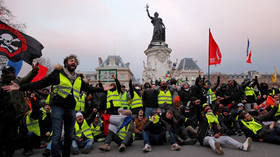 Protesters pose at the end of a demonstration by the French "yellow vests" movement against police violence, in front of Statue de la Republique in Paris, France, February 2, 2019. © REUTERS/Philippe Wojazer
.
Yellow Vests call for general strike on February 5, 2019
February 3, 2019: Yellow Vests protest in Paris, Act XII
.
.
.